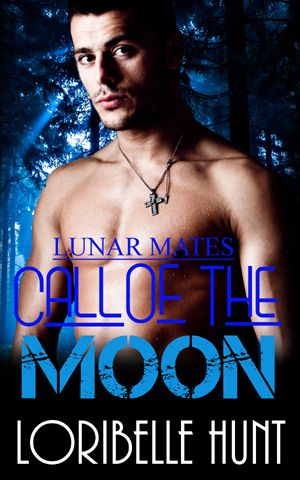 CALL OF THE MOON
LUNAR MATES 4

Chloe knows up close and personal how terrifying it is to be mated to the wrong werewolf, and she has the scars to prove it. After killing the wolf who'd made her life a misery, she accepted the protection of another pack.
Six months later the annual meeting of alpha's brings the one wolf who is a danger to her independence back into her life. Try as she might, she can't resist the chemistry that flares between them, but can she trust it?
Billy let her go and has regretted it ever since. Can he prove to her in one week that they are destined to spend a lifetime together?
This book was previously published and has been revised and expanded from 14000 to 26000 words.
In Ebook
Excerpt
Billy came up behind her and she smiled at the rustling sound he made, certain he'd made it on purpose to avoid spooking her. When his hands settled on her shoulders, she jumped anyway.
"Shh," he murmured.
His body heat sunk into her as he slowly kneaded the knotted muscles in her neck and shoulders. She relaxed against him with a soft moan. "I knew when I was a teenager, you know." There was an edge of accusation in her voice. Some of her anger from the last few months settled on him. "But you never once noticed me."
His fingers—those magic fingers—stilled for a moment. Even though he was touching her through the thin cotton of her shirt, they fanned the growing heat of her arousal. She wanted to feel him skin to skin, to see what else they could do.
"I wouldn't have touched you when you were a teenager. I would have left if I had to," he said lightly. No doubt he had been thinking about the age difference. "I would have come back when you were a few years older."
"When I was in college? That would have been a successful return," she said.
"Nolan would have told me where you were." His voice carried a smile. "The only reason I stayed away so long was because of—"
He left Wyatt's name unsaid, although it hung in the air between them. Anger and tension again coiled within Chloe's body.
"We'll have to talk about him eventually," she said.
"Yeah. But not right now. I have a better idea."
He ran his hands up and down her arms, then leaned down and kissed her throat. She felt a jolt from her lips to her pussy, which creamed in response. She groaned. With his werewolf senses, there was no way he'd miss that. He spun her around.
She expected to see a triumphant grin on her face, but instead found him watching her, his eyes serious.
"What's it going to be, Chloe? I've given you the best offer I can."
She remembered the couples at the party with a sudden yearning. She wanted her life back—including the future she should have had.
She took a deep breath, and answered him, "Okay. This weekend. No biting."
He exhaled a deep sigh and muttered "thank god" under his breath. Yet his eyes narrowed on her face, giving her the impression that she'd just made a deal with the big bad wolf. She took an involuntary step back.
He pulled his shirt off over his head, and she thought her eyes might bug out. The words oh my god and ripped flitted through her mind. His broad shoulders narrowed down to a slim, chiseled stomach. Her mouth watered, but nerves made her sarcastic.
"Just want to jump right to it, huh?" she asked.
He laughed and caught her hand, pulling her close but leaving room between them. "God. I need you, so yes. I need you to touch me, Chloe. I need to feel your hands on me."
The hunger in his eyes was intense and raw. She couldn't deny her body's response, but she secretly hoped he would give her mind time to catch up. She wanted to touch him, however, to discover how all that masculine perfection felt. So she reached up with her other hand.
To her surprise, he caught her fingers. Her gaze flew to his.
"What?" she asked.
"Don't you have a bedroom?"
She hesitated, and Billy thought he was going to have to bring up the bargain right away, but she turned and led him down a short hall. Her ass swung in an unconscious siren's call and his inner wolf growled its approval. She opened a door and stepped inside, and he followed her in. She stood at the end of the bed, a vision that made his cock impossibly hard. She had the kind of body most men would kill for and most women hated to have. A perfectly rounded butt, full high breasts, and a waist his hands would easily span. Her black curly hair was pulled back in a ponytail. He longed to see it hanging free over her shoulders.
"Take down your hair," he said.
She pulled out the elastic and pushed her hair away from her face as it fell free. Glorious.
"Now, take off your clothes," he ordered. She hesitated so long he thought she might refuse. "You did agree, Chloe. Anything I ask for."